Our physical, emotional, and spiritual selves are built on a foundation known as the root chakra, which is situated at the base of the spine. Our sense of security, stability, and anchoring in the physical world is governed by it. We feel assured, comfortable, and focused when our root chakra is balanced and open. However, when it is blocked or unbalanced, we could feel uneasy, afraid, or unstable. To strengthen and balance the energy of the root chakra, it can be beneficial to use the therapeutic properties of root chakra crystals. This article will discuss the top 10 root chakra crystals for grounding, prosperity, and optimal health, as well as practical tips for using them daily.
Featured image credit: W. Carter
Understanding the Root Chakra
The root chakra is the base chakra in the body, located at the base of the spine, between the first three vertebrae and the pelvic floor. It is the first of the seven main chakras in the body, also known as the Muladhara chakra. The name originates from the Sanskrit words 'mula', which means 'root,' and 'dhara,' meaning 'base.'
The root chakra is important because it stands for our sense of security, stability, and grounding, greatly impacting our mental, emotional, and spiritual health.
One's spiritual awakening begins with the root chakra, the firm foundation of our physical, emotional, and spiritual selves. In Hindu beliefs, the kundalini serpent, the symbol of our spiritual and masculine energy, is often depicted as wrapped around the root chakra and the base of the spine. With the awakening of the serpent, it climbs upwards through the chakras, leading through spiritual growth, enlightenment, and liberation of the spirit.
To locate your root chakra, sit or lie down comfortably and focus your attention on the base of your spine. While taking a deep breath, picture a crimson or dark-colored light emanating from the base of your spine and enveloping your entire body with a sense of security and grounding. This is the energy of your root chakra.
Purpose of the Root Chakra
The root chakra is linked to a sense of security, stability, and grounding – an open and balanced root chakra gives one a firm connection to the physical world whilst maintaining internal, emotional, and spiritual balance. It might lead you to experience an increase in self-assurance, security, and inner peace, and physically – increased health and energy levels.
In addition to these advantages, having a healthy root chakra can help you feel secure and stable, capable of taking on challenges. It can help you feel better physically and have more energy while also feeling less stressed and anxious and having more sense of peace and security.
Color of the Root Chakra
Red is the color associated with the root chakra and is often used in the root chakra symbol – the four-petalled lotus. Red is a powerful and firmly grounded color that stands for security, stability, and the material world. Red is a symbol of our connection to the earth, our physical bodies, and our fundamental wants for security.
According to Hindu philosophy, the root chakra's red color serves to balance and harmonize the energy it represents. That is why many of the gems we will explore below are red in color.
Root Chakra Imbalances
Several factors can cause imbalances and blockages of the root chakra. Some common causes include:
Trauma and stressful life events, such as the loss of a loved one, job loss, or financial problems
Chronic stress and anxiety
Physical health issues, such as chronic pain, injury, or illness
Feeling unsafe or insecure in one's home or environment
Negative beliefs about money and security
The emotional and physical symptoms of a blocked root chakra may include:
Emotional symptoms:
Feelings of anxiety and fear
Low self-esteem
Lack of motivation and focus
Constant feelings of instability and insecurity
Difficulty trusting others and the world
Physical symptoms:
Fatigue and low energy levels
Sleep disturbances
Digestive issues and constipation
Back pain and joint pain
Weak immune system
10 Best Root Chakra Crystals
Root chakra crystals have distinct vibrations and frequencies that can be used to stimulate the chakra, helping to enhance its energy and facilitate feelings of safety, security, and stability, as well as advance physical health and wellness.
Here is the list of the best root chakra stones and their main benefits:
1. Garnet
Garnet can promote emotional stability, grounding in the physical realm, and increased energy levels. Additionally, it is said to boost confidence and help relationships become more stable.
Garnet's other healing benefits include:
Enhances spiritual awareness and connection to the higher self
Supports the body's natural healing processes
Aids in the promotion of serenity and inner peace
Credit: Michelle Jo
2. Red Jasper
Red Jasper is known as a stone of endurance and perseverance. It is thought to increase life force energy, helping to improve physical health and vigor while reducing stress.
Red jasper also:
Enhances memory and mental capacity
Supports good digestion
Increases the metabolism and encourages healthy circulation
Credit: あおもりくま
3. Bloodstone
Bloodstone, also known as the stone of courage, is said to strengthen the mind and body as well as the immune system. It supports one in overcoming obstacles with courage and tenacity.
Bloodstone's other benefits for the body include:
Strengthens the immune system and aids in blood circulation
Facilitates normal liver function
Balances and stabilizes the aura and aids in letting go of stress and negativity
Credit: Ra'ike
4. Carnelian
Carnelian is a crystal that encourages inspiration and passion for seizing life's opportunities. It is thought to improve creativity and instill self-assurance and bravery.
Carnelian is well-known for its ability to:
Boost enthusiasm and drive for professional and personal advancement
Improve physical stamina
Promote a healthy menstrual cycle and reproductive system
Credit: jaja_1985
5. Black Tourmaline
Black tourmaline is renowned for its capacity to change negative energy into something beneficial, making it especially beneficial for people who suffer from depression and anxiety.
Black Tourmaline is also a great tool that:
Enhances psychic and intuitive powers
Offers EMF protection from technology
Promotes the health of the lymphatic and respiratory systems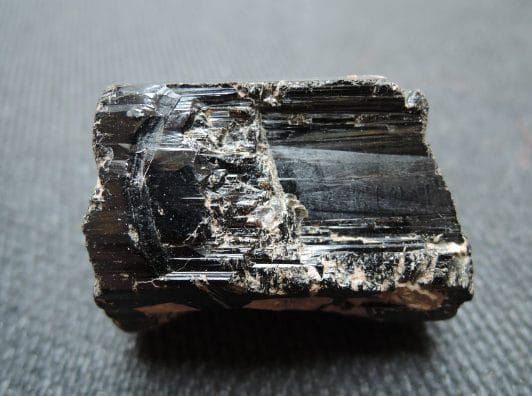 Credit: Jan Helebrant
6. Tiger's Eye
Tiger's Eye is beneficial when it comes to boosting one's self-confidence, willpower, and resolve. It is also said to ground its wearer, help with emotional equilibrium, and bring success and prosperity.
Tiger's Eye is also thought to:
Support emotional stability and ease tension and stress
Supports normal eye and vision function
Boost confidence and self-esteem
Credit: Simon A. Eugster
7. Smoky Quartz
Smoky Quartz is a grounding and balancing crystal that's claimed to be effective in reducing tension, worry, and negative thoughts. Additionally, it can protect against harmful energies and boost physical endurance.
Smoky Quartz also:
Supports normal adrenal function and eases anxiety and stress
Facilitates the release of bad emotions and restores emotional balance
Supports a strong immune system and restful sleep
Credit: Mauro Cateb
8. Black Onyx
Black onyx can facilitate mental and emotional stability, as well as help with concentration and determination. It is also thought to promote stability and give one a sense of more control over their life.
Black onyx also offers:
Support for strong bones, skin, and hair
Defense against harmful influences and energies
Improved stability and grounding
Credit: Collectile Stichting Nationaal Museum van Wereldculturen
9. Clear Quartz
Clear Quartz is a strong and versatile crystal that is thought to magnify energy and intention, especially when it comes to manifestation practices. As well as bringing balance and harmony to the user, it is claimed to aid with concentration and clarity.
Clear quartz:
Enhances the qualities of other crystals and stones
Improves spiritual development and connection to the higher self
Promotes healthy organ and metabolism function
10. Red Aventurine
Red aventurine is a crystal that enhances vitality and physical stamina while also bringing luck and success. Additionally, it fosters self-assurance and an optimistic view of life.
Red aventurine is thought to:
Boost wealth and richness in all spheres of life
Help maintain good circulation and heart function
Credit: Minerals Kingdom
Other Root Chakra Crystals Worth Considering
Moss Agate:
Promotes emotional stability and helps to reduce stress and anxiety
Supports healthy immune system function
Enhances mental clarity and improves memory and cognitive function
Lava:
Helps to provide grounding and stability
Enhances courage and bravery in difficult situations
Supports healthy circulation and metabolism
Hematite:
Supports healthy blood circulation and oxygenation of the blood
Helps to balance the aura and reduce stress and anxiety
Enhances focus and concentration, and supports healthy sleep patterns
Black Obsidian:
Supports physical and emotional detoxification and purification
Helps to provide protection from negative influences and energies
Enhances grounding and stability, and supports healthy immune system function
6 Top Tips for Using the Root Chakra Crystals
Here are some pointers on using root chakra crystals so that you gain the most benefit from your crystal healing practice:
Pick the correct crystals: Select crystals with grounding energy that speak to you.
Wear the crystals: The root chakra can be balanced and healed by wearing crystals near to the skin, such as in a necklace or bracelet.
Place crystals directly on the root chakra: The root chakra, found at the base of the spine, is best targeted by placing crystals as close to it as possible.
Use during meditation: Use crystals while meditating to improve their healing and balancing benefits. You can hold crystals in your hands or place them on your root chakra.
Cleanse and prepare your crystals: It's crucial to cleanse and set up your crystals with the goal of healing and balancing the root chakra before using them.
Be consistent: It's important to use crystals consistently and regularly if you want to experience the benefits of root chakra healing.
Other Methods for Channeling the Energy of the Root Chakra
The energy of the root chakra can be balanced and channeled through a variety of techniques. Some of the most successful ones are listed below:
Yoga and exercise: Grounding yoga postures, including the mountain pose, the warrior pose, and the child's pose, can engage the root chakra. Regular exercise can enhance emotions of security and stability, which can also help balance the root chakra.
Meditation: Focusing on the region near the base of the spine while meditating will assist in balancing and harmonizing this energy center. `you can also try using visualization techniques, picturing a bright red light emanating from your root chakra that gives your body solidity and energy.
Aromatherapy: The root chakra can be balanced by using essential oils like sandalwood, patchouli, and frankincense. These oils can be applied topically on the skin over the root chakra, diffused, or added to a bath.
Affirmations: Positive affirmations for the root chakra should be repeated frequently, such as "I am safe, I am secure, and I am grounded," to help balance the root chakra.
Sound healing: The root chakra is associated with 396 Hz solfeggio frequency, which can help awaken the chakra and attract positive energy.
It's important to keep in mind that balancing your root chakra is a holistic process that affects your physical, emotional, and spiritual well-being, among other parts of your life. Combining various tools and making them a regular part of your self-care regimen will help you get the best results. Above all, what matters most is keeping an open and positive mind and looking after your mental and physical health.
FAQs
What crystal is for root and sacral chakra?
The two best crystals that can target both the root and sacral chakras are Garnet and Red Jasper. Garnet is a grounding stone known to improve feelings of security and stability while fostering passion and creativity. Red Jasper helps to enhance emotions of security and stability while also enhancing sexuality and creativity.
Where to place root chakra crystals?
To maximize the benefits of root chakra crystals, it's recommended to place them in the vicinity of the root chakra, which is located at the base of the spine.
How long does it take to open the root chakra?
The degree of blockages, the person's dedication to the practice, and their capacity for relaxation and release are some of the variables that can affect how long it takes to open the root chakra. It typically takes a few weeks to several months of diligent practice to notice a noticeable shift in the root chakra. Regular exercises that gradually open and activate the root chakra include yoga, meditation, and working with healing stones. However, it's also crucial to remember that opening the root chakra is a journey rather than a goal and that progress can be slow and dependent on your mental and physical health.
What symbols are associated with the root chakra?
The root chakra is often associated with symbols like the lotus flower, which is a representation of the root chakra's ability to encourage self-growth and fresh starts, and the elephant – a symbol for the root chakra's traits of strength and stability.
What flower represents the root chakra?
The red or white peony flower is linked to the root chakra. Peonies stand for similar values of security, stability, and grounding as the root chakra. The peony is seen as a protective symbol in traditional Chinese medicine and is believed to drive away evil spirits and foster emotions of security. Focusing on the picture of a peony during meditation and visualization exercises can assist in opening and aligning the root chakra.