Every sign of the zodiac has its own flower. The Taurus flower is the poppy but lilies, roses, foxgloves, and daisies are also lucky for the Taurus zodiac sign.

The Taurus in a Nutshell
Born between April 20th and May 20th, the Taurus is an earth sign, making all Taureans down-to-earth, practical, and reliable people. They tend to be very patient and level-headed, but they can also be quite stubborn. People born under this zodiac sign are under the influence of the planet Venus and can, therefore, have a fascination for material possessions or appear money-obsessed.
To understand more about the Taurus astrological sign, their personality, and what they are like in love, career, and friendships, read our complete guide on the Taurus zodiac sign.


Why Send Flowers to Your Taurus?
The Taurus zodiac sign is all about the sensual pleasures in life, and there's nothing that delights them more than receiving a lush, beautiful, and fragrant bouquet of flowers.
Flowers are also a perfect way to show your loyalty and affection for a Taurus, as they appreciate gifts that are given with thoughtfulness and sincerity and are great admirers of the beauty of flowers.
Some of the best reasons to send flowers to a Taurus would be:
anniversaries
birthdays
Valentine's day
to show your appreciation
to brighten someone's day during a difficult time
for no occasion at all – just to show your love and appreciation!
Poppy – The Taurus Birth Flower
The Taurus flower is the poppy. The poppy is a symbol of both sleep and death, which makes it an interesting choice for the Taurus zodiac sign. Those born under the sign of Taurus are known for being practical and down-to-earth, but they also have the tendency to be stubborn.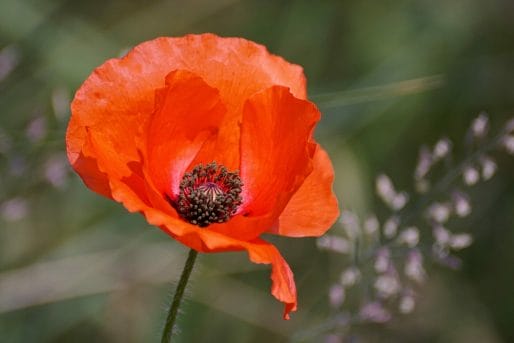 The poppy is a hardy flower that often grows in difficult conditions, so it links to the stubborn nature of the Taurus perfectly. The poppy is also associated with fertility, making it a fitting choice for a sign that is known for its love of nature and the earth. Ultimately, the poppy is the perfect Taurus flower because it embodies many of its most characteristic qualities.
4 Other Flowers Perfect For the Taurus
1. Lily
Another Taurus flower is the lily. Lilies are well known for their beauty and have long been associated with luxury and opulence, making them the perfect choice for spoil-worthy Tauruses.
As the May birth flower, lilies represent purity, chastity, and sweetness – perfect qualities for an adoring Taurus partner. Red lilies, on the other hand, are traditionally seen as a symbol of love and passion. Symbolically, lilies also represent new beginnings and revival, which makes them a wonderful gift for any occasion, capable of brightening anyone's day.


2. Rose
Roses have always been a classic choice for gift-giving, and it's no surprise that they're also a favorite Taurus flower. A rose's symbolism varies depending on its color, but in general, they represent love, appreciation, and gratitude – all sentiments that are sure to resonate with a Taurus. Peach roses symbolize gratitude, whilst green roses will be in tune with the Taurus' zodiac color.
Roses make an excellent gift for almost any special occasion. When choosing roses for a Taurus, opt for something luxurious and over-the-top, like a huge bouquet of roses, which will exude your passion and romance for the Taurus.


3. Foxglove
Foxglove flowers make a great option for a luxurious and elegant gift. These Taurus flowers symbolize beauty, grace, and admiration. Interestingly, foxgloves are also associated with magic, intuition, and creativity, one of the many passions of the Taurus.
Foxgloves can be a great conduit of productivity and innovativeness. If you know a Taurus is working on an important new assignment, gift them a bouquet of foxgloves to spark their creative genius. Foxgloves also make an excellent choice for Mother's Day, as they represent the special bond of motherhood.


4. Daisy
Daisies are also an excellent choice for a Taurus friend or loved one because they represent all that is good and pure in the world. These flowers embody childlike innocence and happiness, making them a perfect pick-me-up for any occasion. Daisies also make a great gift for birthdays, as they symbolize new beginnings and a fresh start.


FAQs:
Which flower is lucky for the Taurus?
The Taurus flower of luck is the Poppy. Its ability to remain firmly rooted in the ground will remind the Taurus of their level-headed nature and enable them to remain persistent in difficult situations. A few other lucky flowers for the Taurus include roses, lilies, foxgloves, and daisies. Each of these flowers has its own special meaning and symbolism which can also be beneficial to the Taurus.
What plants are good for the Taurus?
Lavender, known for its calming properties, is a great choice for a Taurus people who needs to relax after a long day. Rosemary can also be added to promote mental clarity and concentration. Aloe vera a great Taurus flower and will make a handy addition to their home due to its healing properties.
What jewelry should Tauruses wear?
When it comes to jewelry, the Taurus will prefer pieces that will stand the test of time. A simple gold or silver pendant necklace will be a great choice for everyday wear, while stud earrings are perfect for Tauruses who want a little bit of sparkle without being too flashy. A cuff bracelet is another great option for those who want something a little more substantial than earrings.
What is a lucky color for the Taurus?
Green is a lucky color for the Taurus because it represents balance and harmony – two important qualities for the Taurus. In addition, green is a calming color that can help Taurus to relax and feel centered. When choosing colors for apparel, décor, or gemstones, consider incorporating shades of green to bring luck and good fortune to the Taurus in your life.
What animals do Tauruses like?
Cats are a great choice for the Taurus, as they are independent but also affectionate and loyal. Pigs and cows are also said to be good matches, as they share Taurus's love of security and comfort. But ultimately, any animal that can provide the Taurus with companionship and affection will make a great pet for them.